Canon XA25 Professional Camcorder
The XA25 is a compact, high-performance professional camcorder designed specifically for "run-and-gun," ENG-style shoots with enhanced I/O connectivity. The XA25 offers a unique combination of high-precision optics, outstanding image processing, multiple recording formats, flexible connectivity and intuitive user features. But its compact design does not mean compromised functionality – this small and lightweight camcorder meets the quality and performance standards necessary for use in a wide range of applications, including news gathering, law enforcement and military, education and documentary, among others.
A powerful, all-new Genuine Canon 20x HD Video Lens with SuperRange Optical Image Stabilization and a new 8-Blade Circular Aperture extends user creativity, while a new 2.91 Megapixel Full HD CMOS Sensor and new DIGIC DV 4 Image Processor capture superb images with outstanding clarity.
The camcorder features both MP4 (up to 35 Mbps) and AVCHD (up to 28 Mbps) codecs at up to 1080/60p resolution for virtually blur-free, high-quality capture of fast-moving subjects. Dual-band, built-in Wi-Fi® technology allows easy FTP file transfer and upload to the internet.
A 3.5-inch OLED Touch Panel Display with the equivalent of 1.23 million dots of resolution offers a high contrast ratio, a wide-view angle and high-speed response, while a pair of SDHC/SDXC-compatible card slots enable Relay Recording, double-slot recording, and all-new Dual Recording, which enables the XA25 to capture video in different recording formats simultaneously.
An HD/SD-SDI port allows uncompressed video with embedded audio and timecode data to be output to video editors, recorders, news trucks, workstations and other digital cinema/TV hardware, with greater image fidelity than standard HDTV format.
Video of Canon XA25 Camcorder Features Review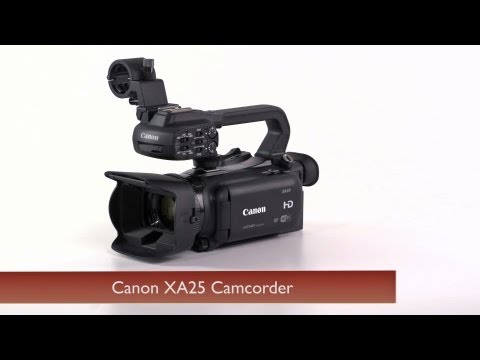 Main Features of Canon XA25 Camcorder
Genuine Canon 20x High Definition Optical Zoom Lens—The XA25 features a Genuine Canon 20x HD Zoom Lens that provides a highly versatile zoom range with 35mm equivalent of 26.8mm–576mm, and a minimum object distance of just 23.6 inches (60cm). The impressive image quality is enhanced by a new 8-Blade Circular Aperture design, which avoids the "starburst" effect of point light sources in non-circular aperture designs. Out of focus areas are smoother, more natural and more appealing. An endless-type focus and zoom control includes user-programmable direction and sensitivity modes. Zoom speed can be set to variable, constant (with 16 levels), Fast, Normal or Slow.
Full HD 1920×1080 Recording Capabilities—Multiple recording modes, resolutions and frame rates make the XA25 Professional Camcorder creatively flexible and adaptable to virtually any production environment. It can record in Full HD resolution in both MP4 and AVCHD Progressive recording codecs, at multiple bit rates, and even simultaneously.
HD/SD-SDI Output—HD/SD-SDI output provides an uncompressed signal at 1920×1080 resolution with 4:2:2 color sampling and embedded audio and time code.
Built-in Wi-Fi®Technology with FTP Transfer Capability—The XA25 features built-in dual-band (5 GHz/2.4 GHz) Wi-Fi® technology, enabling FTP file transfer to Cloud-based servers for convenient back ups, or for situations where a relay station, such as a news truck, is unavailable. The dual bands help ensure that data can be sent even in areas with increased signal interference. It is also possible to connect to compatible networks, wireless hotspots and iOS® mobile devices using the free Canon Movie Uploader app*, or play back video on the camcorders' memory cards to Wi-Fi®-enabled TVs and computers.
New Full HD 1920×1080 HD CMOS Imaging Sensor—The XA25 Professional Camcorder features a new 1/2.84-inch HD CMOS Image Sensor. The larger sensor area and 2.91 Megapixels answer the demands of the new, more powerful lens. Both wide-angle and zoom shots deliver wide dynamic range and impressive tonal reproduction. In addition, the large size of the individual pixels enable a minimum subject illumination of 1.2 lux, making the XA25 excellent for shooting in challenging low-light conditions.
DIGIC DV 4 Image Processor—The DIGIC DV 4 Image Processor featured on the XA25 is a high-speed engine that works in concert with the HD CMOS Image Sensor to provide images with low noise and great depth. It also powers the new Dynamic Mode of the image stabilization system, which is an electronic correction of rotational distortion added to Canon's proven optical system. The increased processing power also enables Dual Recording to two separate SD cards, expanding output options and allowing convenient data transfer even when out in the field.
3.5-inch OLED Viewscreen with 10,000:1 contrast ratio—The new 3.5-inch, advanced 1,230,000-dot equivalent Organic Light-Emitting Diode (OLED) display provides vivid colors, high contrast, and dramatically improved responsiveness compared to traditional LCD screens. A wide-view angle (over 80 degrees at all angles) aids in composition versatility, and regular chromaticity adjustments, prompted by the camcorder, ensure correct brightness and faithful color reproduction.
EVF—The 0.24-inch tilt-type color electronic viewfinder on the XA25 has approximately 100% field of view, and 1,560,000 dots of resolution help ensure critical focus adjustment, with peaking applied if necessary. A joystick located to the right of the viewfinder, where the thumb rests, enables control of camera settings on the viewscreen without having to use touch panel controls.
SDHC/SDXC Card compatible —The XA25 is compatible with ubiquitous SDHC and SDXC memory cards, which provide super-high capacity and ultra-fast data transfer.
Double-slot SD Card recording for instant backup—For safety and convenience, double-slot recording allows you to record simultaneously to each of the two SD memory card slots, providing an instant backup for your footage.
Relay Recording for continuous, long-run recording—With Relay Recording, the XA25 automatically switches video recording from one SD memory card to the other when the first memory card becomes full.
New Dynamic IS—Used for image stabilization at the wide end, Dynamic IS builds on translational (up-down/left-right) stabilization, adding roll axis correction, horizontal roll correction and vertical roll correction for five-axis correction. Image distortion is substantially reduced, even when shooting while in motion.
Macro IS—Macro IS corrects angular and shift-type shake in wide-angle shots.
Powered IS—Used for image stabilization in telephoto shooting, Powered IS corrects for low-frequency camcorder shake.
Custom Key and Dial—A Custom Key and Dial feature allows you to assign functions to an easily accessible key and adjust the settings with a control dial. They include:Tv/Av,Manual exposure and Exposure Lock
Composition Aids—With the Level Marker feature, it's easy to keep the camcorder level for more accurate framing. The Grid Marker provides a reference grid in your viewfinder. Depending on the background color of your shot, you can choose between two different colors for better viewing contrast.
Gain Control—Gain may be manually set from 0 dB to 24 dB in 1 dB increments. Additionally, Auto Gain Control Limit allows you to set the maximum gain limit for the image sensor's sensitivity. With this function, brightness and noise can be balanced as required, and image quality can be maximized in low-light situations.
Power Zoom—Power zoom is available in Constant and Variable settings in 3 modes: Fast (approx. 1.9–60 seconds), Normal (approx. 2.5–180 seconds) and Slow (approx. 4.0–285 seconds). To provide added control, there are 16 predefined steps in Constant mode.
Ergonomic, Portable Design—Weighing less than three pounds including the detachable handle, battery and lens hood – and less than two pounds without – the XA25 is ideal for high-action shoots when both speed and mobility are essential, and where keeping a low profile is an added benefit. Though small in size, this camcorder sacrifices nothing when it comes to professional functionality. It features a new "seesaw" style zoom lever, manual focus/zoom ring and joystick for easy control, and an electronic viewfinder that can tilt up to 45 degrees for low-angle shooting. It also has five Assign Buttons to help it fit to your operational needs.
Two Phantom-powered XLR Audio Inputs with Manual Gain Control—A stereo microphone is incorporated into the XA25 Professional Camcorder, as are two XLR audio inputs with +48V phantom power. The built-in microphone provides exceptional audio in fast-paced situations while the XLR inputs provide connectivity to external microphones and other professional audio devices. If you choose, the built-in microphone and XLR input can be used simultaneously.
Ultra-compact Form Factor with Detachable Handle—A detachable handle provides the pro shooter with expanded audio performance and added flexibility. Removing the handle allows the camcorder to be made more compact for convenient storage when travelling. Included on the handle are the following terminals, controls and monitors.
Focus and Exposure Aids—To enhance focusing capability, the XA25 provides Focus Assist. It includes enlargement, which helps in capturing your subject in razor-sharp focus. It works by providing a 2x magnification of your subject, which is automatically cancelled when you start recording. Also included is color peaking, which shows the shooting object's focused areas in actual colors.
Assignable Buttons for Custom Shooting—The XA25 is endowed with five assignable buttons so that the camcorder can be tailored to the specific preferences or needs of the user.
Infrared Shooting Mode for Extreme Low-light Conditions (with built-in IR emitter and diffuser)—The XA25 Professional Camcorder features an Infrared Mode allowing the capture of video in conditions with little to no ambient light. It does so by removing the infrared cutoff filter from the optical path. Its specially designed lens coating allows the infrared light to pass through to the image sensor. Plus, the power of the infrared light is enhanced by 2.7 times compared to that of the XA10 camcorder. Additionally, the detachable handle of the XA25 features an infrared emitter with a diffuser to shoot pleasing infrared imagery even in complete darkness. For nature videographers or law enforcement users, the benefits of a compact, high performance camcorder for shooting in such conditions are obvious. Without the need to add lights, the shooter may remain hidden from subjects. Also, the XA25 gives the option of recording in green or white light mode.
Connectivity—Not only does the XA25 Professional Camcorder provide the professional user with complete control over the image, it also provides complete creative freedom when it comes to inputs and outputs.
Optional Bluetooth Mic with Two-way Intercom-like Capability—The XA25 is compatible with the optional Canon WM-V1 Wireless Microphone. Bluetooth technology allows high-quality audio to be recorded from up to 164 feet away (50m), making it ideal for events, ceremonies, nature recording and other situations that call for unobtrusive sound recording. With earphones attached, the WM-V1 Wireless Microphone can also be used as a two-way intercom, enabling more creative control, such as when discreetly providing an on-camera subject with direction.
Photo Capture—For applications such as storyboarding, continuity and publicity shots, the XA25 offers the ability to capture 1920 x 1080 still images. Photos may be captured to an SD memory card during recording, as well as "frame grabbed" during playback.
Pre Record—Perfect for news crews and live event shooters, the XA25 continuously buffers approximately three seconds of video in memory. When the Record button is pressed, recording begins and the contents of buffer memory are added, so you never miss an important shot.
Intelligent Battery System—The XA25 Professional Camcorder is compatible with Canon's Intelligent Lithium-ion batteries. These batteries communicate remaining running time (down to the minute) so the user is well informed at all times.
Support for 27 Languages—The XA25 supports the following languages: Czech, Danish, German, Greek, English, Spanish, French, Italian, Hungarian, Malay, Dutch, Norwegian, Polish, Portuguese, Romanian, Finnish, Swedish, Turkish, Russian, Ukrainian, Arabic, Farsi, Thai, Chinese (simplified characters), Chinese (traditional characters), Korean and Japanese.
What's in the Box
1.Canon XA25 Professional Camcorder
2.Lens Hood (with Lens Barrier)
3.Battery Pack BP-820
4.Microphone Holder Unit / Handle Unit
5.Wireless Controller WL-D89
6.USB Cable IFC-300PCU
7.Stereo Video Cable STV-250N
8.Mini-HDMI Cable HTC-100/S
9.Bundled CD ROMs:
- PIXELA Data Import Utility Disc
- Photo Applications / Audio Disc
If you want to buy Canon XA25 Camcorder, read more Canon XA25 Camcorder reviews for consideration!