Panasonic AG-HMC40 Professional Camcorder
AVCCAM – the Industry's Next Generation Affordable HD
Panasonic's latest introduction to its popular AVCCAM line, the AG-HMC40 handheld, combines full HD AVCHD video recording with high-resolution 10.6-megapixel still photo capture, giving you the benefits of two professional cameras in one affordable package.
Compact and lightweight at 2.16-pounds, the HMC40 is a versatile HD camcorder offering high-quality AVCHD recordings, high-resolution still photo capture, an easy-to-use SD card workflow, and professional audio capabilities for a wide range of applications and markets including schools, government agencies, event videographers, web designers and more.
Full HD Video & 10.6-Megapixel Stills — All in One Compact Camera
With a full resolution 3-megapixel, 1/4-inch 3MOS imager, the HMC40 produces stunning 1920×1080 video in AVCHD (MPEG-4 AVC/H.264), delivering images far superior to HDV. When used for digital still photography, the camera captures photos with 10.6-megapixel resolution directly onto the SD card as a JPEG image. The camera can also be connected directly to a PictBridge photo printer (no PC required). And unlike HDV tapes, video and photos can be accessed randomly and immediately from the SD cards and played back on a number of consumer devices.
The camcorder's advanced Leica Dicomar lens system offers 12X optical zoom, wide-angle setting (40.8mm) and an optical image stabilizer (O.I.S.) feature for precise shooting. The compact camera is also packed with professional video and audio features (HDMI out, date/time stamp, remote zoom, XLR option, etc.)
High Definition Performance, Standard Definition Price
Using high-capacity SD memory cards, the HMC40 provides hours of beautiful high definition recordings at professional level bit rates. It records in a range of 1080 and 720 formats with all four professional AVCCAM recording modes: PH mode (average 21 Mbps/Max 24Mbps), the HA mode (approx.17 Mbps), the HG mode (approx.13 Mbps), HE mode (approx. 6 Mbps). AVCCAM offers the benefit of a fast, file-based workflow using widely available and reasonably priced SD memory cards.
Panasonic AG-HMC40 Camcorder Video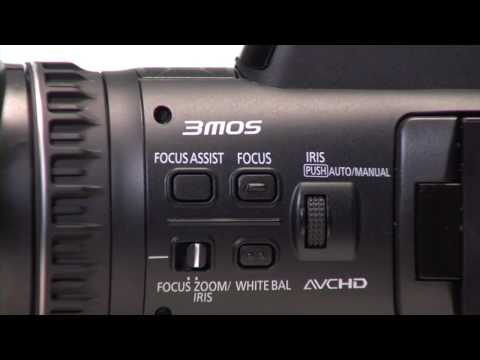 Main Features of Panasonic AG-HMC40 Camcorder
HD formats: 1080/60i, 1080/30p, 1080/24p (Native); 720/60p, 720/30p, 720/24p (Native
Three newly designed 1/4.1″ Progressive 3MOS Imagers for full HD resolution
12x Leica Dicomar lens (13 elements in 10 groups), 43mm filter Ø, zoom range of 40.8 – 490mm* (*35mm equivalent.)
Extremely slow, smooth zoom for the precise control needed for dramatic sequences
Time Date Stamp enables shooting Legal Depositions or Surveillance
Long record time: 3 hours with included battery (7 hours continuous with 5,800mAh Battery)
Remaining battery time readout in minutes so shooter is warned (Info Data Secure Battery)
3-second pre-record function captures the shot from the beginning
Shooting assist functions: focus expand, focus bar and Face Detection feature in Auto Mode
Waveform monitor helps with luminance for green screen where lighting has to be evenly distributed
Professional interface with HDMI out, Component Out (mini D terminal), Composite Video Out and RCA Audio Out
Additional features include: three user set buttons, Time code (DF, NDF, REC RUN, FREE RUN) and USER BIT, two scene files, auto functions (Auto Focus, Auto White Balance and Auto Neutral Density)
Connects directly to PictBridge photo printers
2.7-inch 16:9 Touchscreen LCD display (Just touch the thumbnail for playback)
Manual and remote control connection for Zoom, Focus, Iris, Start/Stop functions (similar to HMC150). Focus ring can also be used for Iris and Zoom
Min. Illumination: 1 lux, (F1.8, Gain: +34dB, Slow Shutter: 1/2 sec.)
Syncro Scan Shutter, 60i- 1/60-1/250, 30p- 1/30-1/250, 24p- 1/24-1/250
Selectable Gammas & DRS Dynamic Range Stretch
Lightweight, yet durable, design with removable handle
Optional AG-MYA30G Professional XLR adapter available (features audio inputs with +48V Phantom Power, Mic/Line, Attentuation, Ch 1&2 or Ch2, Level Controls and Mic Holder (8 pin push on precision connector)
3-Year limited warranty (1 year + 2 extra years upon registration)
If you want to buy Panasonic AG-HMC40 Camcorder, read more Panasonic AG-HMC40 Camcorder reviews for consideration!